Wedding Ceremonies , Renewal of Vows & Commitment Ceremonies
Your wedding ceremony is the most important beginning to your new life together.
A traditional wedding might not be for everyone but you can still have a wonderful and memorable day! I TRY TO only perform one wedding each day so that each couple gets the attention they deserve on their very special day. If it is important for you to have a wedding officiant that truly is honored to perform your ceremony, then you have found the right person.
I perform weddings on the Beach, in parks, or a location of your choice.
I DO NOT HAVE MY OWN CHAPEL BUT IF REQUESTED, I CAN ASK A LOCAL CHURCH IF THEY WILL RENT THEIR CHAPEL FOR THE WEDDING. IF SO, I WILL GIVE THE COUPLE THE CHURCH CONTACT INFORMATION TO ARRANGE THE PAYMENT OF THIS FEE. THIS FEE IS TOTALLY SEPARATE FROM THE FEE I CHARGE TO OFFICIATE THE WEDDING.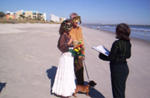 Please send all email to me at: weddings_by_eileen@hotmail.com
Come to beautiful Myrtle Beach/Conway, South Carolina to get married.
After applying for your marriage license at any courthouse there is a 24 hour waiting period before the ceremony can take place.
If you do apply on a Friday, you must wait until Monday to get married (state law). You will need a drivers license or picture I.D. and your social security number. BOTH applicants must appear in person to pick up the marriage license. The fee for the marriage license is as follows:
All Horry County residents: $50.00 All State residents: $75.00 Out-of-State and Others: $100.00 These fees are paid directly to the Court with the marriage license application. They do NOT accept personal checks.
You may now apply for your marriage license through the mail. Just email me to ask me how to do this.
SPECIALS
WEDDING/VOW RENEWALS
Reduced fees given for anyone (Bride or Groom) who is in the Armed Forces and has or will be serving our Country. You must mention this ad in your FIRST email to me.
Ask me about my discounted rate for a ceremony at the Conway Riverwalk instead of at the beach. I can email a photo of this location when requested.
********************************************************************************************
SOME RESTRICTIONS APPLY.
You must be 18 years old and show a picture I.D. (drivers license) when applying for your marriage license at the court house.
You do NOT need to be a resident of S.Carolina.

As a S.Carolina Notary Public I would be honored to officiate at your wedding ceremony at a location of your choice. You can rely on my expertise in creating a wedding ceremony that reflects your values and one that you will long remember.



Feel free to email me for more details. Pricing will depend on the services you require for your wedding.